Sun   Yantra
Sun Yantra - Discover your inner magic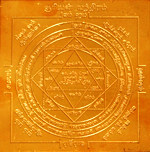 The Sun is the leader of all the celestial bodies, and a source of power and essential for all life. Similarly, his influence in your Birth Chart plays a major role in determining your career growth, mental strength and success. When the Sun is exalted in his position, you will be a high spirited team player, a leader in your sphere and a charismatic personality! If you stumble in some of these characteristics, it means the Sun is subdued in your Birth Chart. Radiations of the Sun Yantra empower you with leadership, brilliance and executive power. It fills up your vacuum with its triggering energy and positivity. The energized Yantra is the carrier of your prayers to the Sun God. He in turn will stimulate your dynamism to assault all the impediments that stand in the way of your success. Hardships you undergo on your work front, severe health ailments, and mental stress will no longer be a threat to you, when the Sun Yantra is at your side! You will be energized to live a more brilliant and powerful life. Awaken the leader in you! Think out of the box. When you are meek with your actions or when others dictate terms to you, the Sun can be at your ally to turn this around! Brighten up your positive side with the rays of the Sun to live your best.
People who strive hard for progress in their career
People who struggle to win over their enemies
People who suffer from health ailments
People who wish to develop their leadership skills
People who want to grow in illumination and enlightenment
People who yearn for a more sunny, cheerful disposition
People who desire to become universal in tolerance of others
People who wish to be flooded with healthy life energy
People who work in government and wish to serve without corruption
People who need to develop power and use it wisely
You can keep this yantra at your office or altar place and do the pooja. You have to chant this mantra for 21/108 times and with the energy of chanting you would be blessed with the positive energy of Sun Yantra.
Sun Mantra is as follows
Om hram hreem hroum sah suryaya namah
How to use the Yantra in Altar?
Keep the Yantra on a Altar facing North or East, placing the center of the Yantra at the level of your eyes.
Wash the Yantra with rose water or milk and Wipe the yantra with clean cloth.
There will be change in color in excess of a period of time but energy of the yantra will not dissolve.
First apply sandalwood and then Kumkum on the edge of the yantra and in middle.
Do not forget to consecrate the fruits of this practice to God (karma yoga).
Then light a candle or ghee lamp and incense stick in front of the yantra in altar and do pooja.
Chant the mantra as mentioned above in front of yantra.
Thus, Yantras not only avert disasters but also help in bringing good things to life.
Yantras add value to one's life and do have mystical powers to heal certain issues which are not understood by most of the people.